This is us
Earlier this month we spoke with reporter Mark Madler of the San Fernando Valley Business Journal, and it was a great exercise to pause and reflect on our business and where we're headed.
Article in the San Fernando Valley Business Journal — September 16, 2019
High-Net Talkers
MARKETING: Robert Ross and Roland Madrid practice their style of luxury persuasion.
By MARK R. MADLER Staff Reporter
The principals at RossMadrid Group Inc., a creative marketing agency in the San Fernando Valley, have a quick answer for those who ask them what they do.
The response is they develop marketing strategies for luxury brands that resonate with high-net worth individuals in a way that interests them.
This year, the company has won the account as the creative agency of record for [a notable sports luxury automotive brand].
"It means that we are in the driver's seat of the tone and voice for the company's external communications," Roland Madrid, the younger of the two partners, told the Business Journal. "Our expertise in how to speak to and attract ultra-high net worth customers helped to land us the opportunity."
Another new client this year is Napa Valley Reserve private membership club, an exclusive organization offering members the opportunity to become a vintner.
Madrid, 42, said the Canoga Park company is unique in that it has both technical expertise in high-end sports cars, wine and other consumer products and also a familiarity with the people buying those products.
"It is very holistic as opposed to going to an agency that is only about automotive or only about wine," said Madrid.
Robert Ross, the other partner, called the journey of the company a funny one in that he and Madrid did not set out to fill the niche they do.
Their work evolved out of personal relationships formed in the 1990s when Ross was starting his publishing career with the company that then published Robb Report, the luxury lifestyle magazine. Through his and Madrid's affiliation with that publication, they met a lot of people.
For instance, when Rolls-Royce was relaunching its brand in the U.S. after being acquired by BMW, the carmaker came to Robb Report to develop a marketing campaign. Ross took the lead on that project in 2003.
"I don't think there is anyone who remembers that, but I do," the 63-year-old Ross said. "It is those kinds of relationships that form and then move on to other companies."
High-end digital
While the company still dabbles in print, it is in the digital realm that it now excels. It is the goal of the two partners to make digital copy—be it online, email or social media—feel like excellent print. They want the recipient of their copy to feel special, whether they see an ad on their computer screen or through an email.
"It is written well and carefully designed and orchestrated so that everything is perfect," Madrid said. "Because these brands deserve perfection." In addition to Ross and Madrid, the firm has three other full-time employees. They also use contractors and freelancers for photography, art direction, videography and digital experiences. They do not bring that work in-house because it is not the type of business they want to run, Madrid said.
"We want to run something lean," he explained. "It helps us to be agile. We don't have to worry about a dozen employees and making payroll for those folks every month. I think that is the way to go."
Both Ross and Madrid are Southern California natives. Ross grew up in the San Fernando Valley in Reseda and his first job was in a head shop there and was later trained as a fine artist and painter. Madrid has worked, he said, since age 9, starting on desktop publishing on a Macintosh computer.
The pair came together at CurtCo Media when Ross hired Madrid as the creative director at Robb Report and seven other magazines. Later, when Ross became president of another CurtCo publication, Art & Antiques, Madrid became the director of that magazine as well.
"When it comes to creative strokes, this is the guy that makes the magic happen," Ross said.
By 2008, however, the writing was on the wall about a weakening in the publishing marketing and not long after that, the pair decided to strike out on their own.
But as a business owner, he did not want to be the guy who is up at 2 a.m. worrying about where new business would come from, Ross said, adding that Madrid didn't want to be that guy as well.
So, the pair decided they would share the burden as well as the upside.
Madrid said he is the junior partner because of Ross's extensive experience and the fact he had brought all the business to the firm.
He also said that running the company was like a marriage in that there was a lot of give and take. Still, the pair do complement each other. Ross brings an expertise in art and lifestyle that Madrid said he doesn't have.
"I bring a certain amount of experience in the digital world and pop culture," Madrid added. "It is one of these situations that allows us to put on the table for our clients a unique proposition."
Dan Gugler, vice president of global communications at Korn Ferry, the Los Angeles-based global management consulting firm, is one of those clients.
Korn Ferry has been working with RossMadrid for about 10 years.
"They are a firm that is not really satisfied with the status quo," Gugler said. "They know that in order to continue to get a share of a voice in a busy marketplace these days, you need to have a message that really resonates."
Among the work RossMadrid does for Korn Ferry is putting together Briefings, a quarterly magazine sent to executives and business leaders.
"They have also been instrumental in the design of various books for our firm and thought leadership pieces and some advertising that we do from time to time," Gugler said. "They have had their fingerprints on a number of different things."
Korn Ferry Chief Executive Gary Burnison is among the authors that RossMadrid designs books for. The idea that Burnison comes to a small Valley firm when he has a huge team behind him is gratifying, Madrid said, adding: "I love that we are his go-to guys, that is kind of awesome."
When putting together Briefings, the pair told Korn Ferry that the quarterly publication could not be done cheaply and it would have to use the best illustrators and writers.
"We in turn put the same amount of attention into it," Madrid said. "Because we have a publishing background, it is one of the projects we like to do."
Born storytellers
Both Ross and Madrid have plenty of interesting stories to tell about their business.
Madrid tells of the time he was contacted by "an important person" from Chrysler who needed a logo on Saturday night for a project that was launching around the world the next day. The logo, however, didn't exist and had to be created that night.
"That is what we call a snowball's chance in hell of happening in a typical agency scenario," Ross said.
Then there was the time the pair went to Wichita to meet with executives from Hawker Beechcraft, the private aircraft manufacturer. Ross and Madrid displaced a larger agency that worked with general aviation clients and for four years did all the company's marketing.
"That really helped us lay the foundation for the company, financially and in terms of experience," Madrid said.
Another time there was a client headquartered overseas who made an agreement on an exhibit at an automotive museum in Los Angeles that would feature one of the cars that RossMadrid does marketing for. Someone dropped the ball on preparing the exhibit and so Ross stepped in to do it all—writing the copy that appeared on the walls, picking what cars to display and organizing other materials.
"Every single element that needed to be in place was done in three days," Madrid said.
These examples show that RossMadrid clients get a level of service in which the two partners are in control of all the elements of a marketing campaign.
"It goes back to having limited time and working with people we like and brands we love," Madrid said.
That attitude allowed the pair to look at the next 10 to 15 years with a smile as opposed to dread. They aren't planning on retirement but instead just look forward to the next project.
"We enjoy what we are doing," Madrid said. "It may not be good for our future, but I'd much rather be in that state of mind than looking at how do we build the business so we can sell it."
Creatives: Robert Ross, left, and Roland Madrid at their agency RossMadrid Group in Canoga Park.

The race is on!
Race fans, participants, and sponsors keep these coffee-table-quality publications on their bookshelves long after the winners cross the finish line…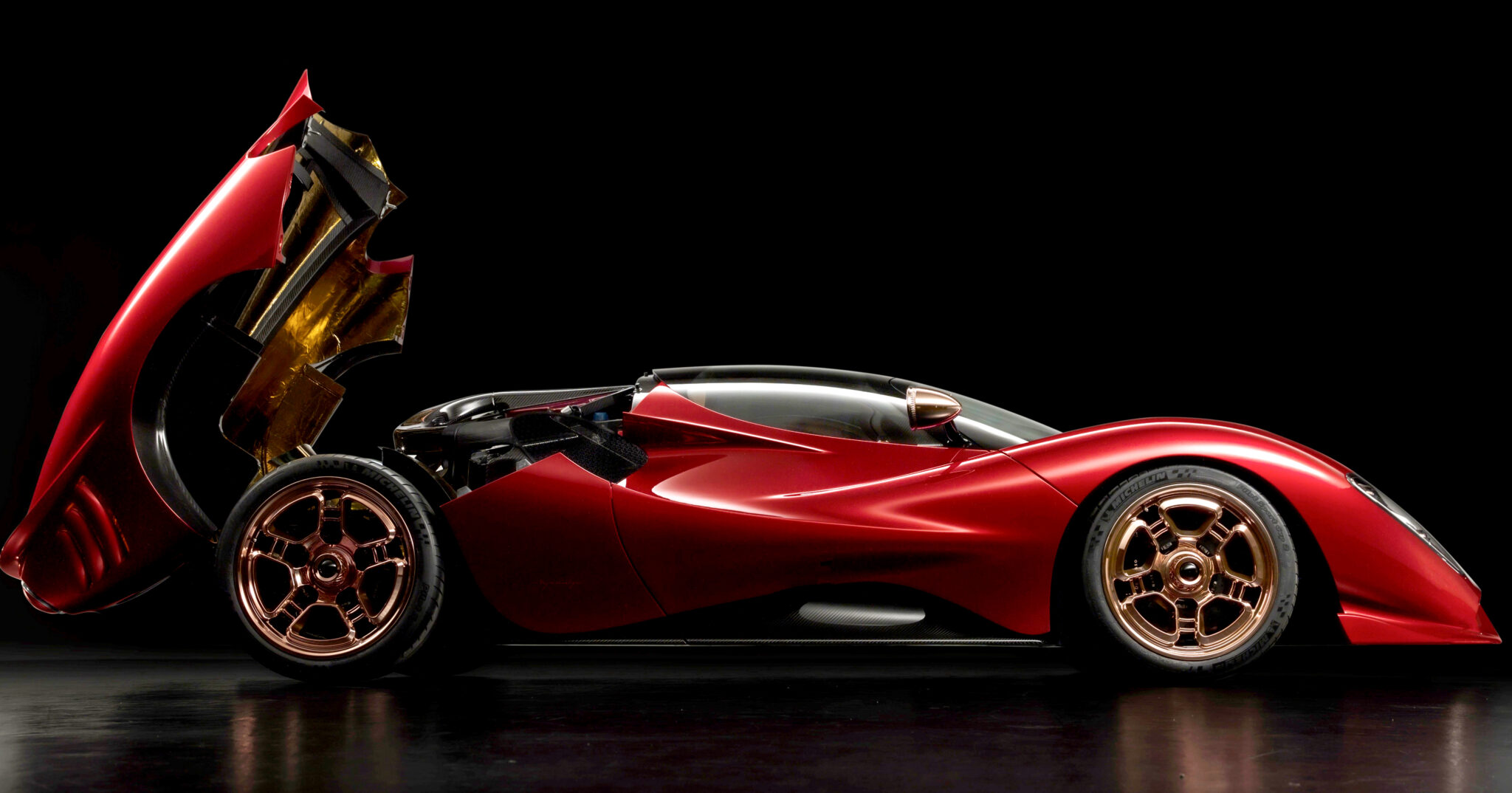 Musings on Monterey…
Every August, the bucolic Monterey Peninsula attracts tens of thousands for a week of unbridled automotive excess….

RossMadrid Group, Inc.
6732 Eton Avenue
Los Angeles, California 91303