Musings on Monterey Car Week
By Robert Ross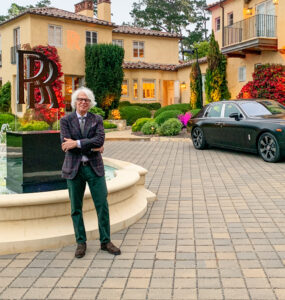 Every August, the bucolic Monterey Peninsula becomes a swarming mass of automobilia, attracting tens of thousands of enthusiasts, exhibitors, auction goers, vintage racers, and luxury-car customers for a week of unbridled automotive excess. What was once the setting for hallowed concours events like The Quail, Concorso Italiano, and Pebble Beach is now a theater of the absurd, where every British, German, and Italian sports and luxury marque casts a net to lure HNW visitors with test-drives, private parties, and exclusive dinners. Never mind that one wishes for a helicopter to get from Point A to Point B, avoiding paralyzed traffic that proves even a $3 million hypercar can't go faster than the waddling Prius in front of it. And still, they come.
So did I, for my umpteenth year in a row, this year not to exhibit a car but to be a spectator. Unlike the groom at his own wedding who's so busy he never gets to enjoy the party, I did nothing but see the sights and marvel at how right—or sometimes how wrong—automotive design can turn. Sometimes it's a combo, like the new DeTomaso prototype, which ticks most of the boxes with remarkable styling, but features rose-gold rims that scream "rent to own."
At the Rolls-Royce Villa, I was impressed by the cars, as well as the fountain in the circular drive, thoughtfully personalized with my initials. Or perhaps it was just coincidence… Rolls-Royce hospitality was, as are the marque's motorcars, a genuine expression of luxury writ large.

5 tips for creating direct mail…
About a decade ago, during the discovery phase for a large new general aviation account, we stumbled upon a peculiar…

An appreciation of the 'styleless'
Bauhaus instructor Marcel Breuer's chair was brilliantly conceived; rare originals are valued well over $20,000…

RossMadrid Group, Inc.
6732 Eton Avenue
Los Angeles, California 91303